OBCZ de Panoven
Edit
Buitengoed de Panoven, onderhouden door Moem.
Panovenweg 18, 6905 DW Zevenaar, Gelderland
Openingstijden: voorjaar/zomer: dinsdag t/m zondag minstens van 10.00-17.00 uur (en vaak later); najaar/winter: dinsdag t/m zondag minstens van 11.00-16.00 uur (en vaak later).
De Panoven is een unieke oude baksteenoven die volledig bewaard is gebleven. Je vindt er nu een camping, restaurant de Herberg, vergaderruimtes, groepsaccomodatie en een baksteenmuseum met leuke workshops. De boeken zijn te vinden in de Herberg, in een mand links van de ingang.
Zie ook het plankje.
OBCZ-Zuidspoor
Edit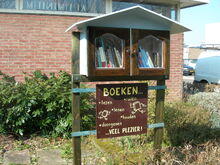 Op bedrijventerrein Zuidspoor, onderhouden door Moem.
Hoek Handelsdwarsstraat - Industriestraat, 6905 DJ Zevenaar, Gelderland.
Openingstijden: altijd.
OBCZ-Zuidspoor is een openbare boekenkast die buiten staat en dus altijd open is. Er is geen plankje op BookCrossing, wel een vrijlaatplek.
Ad blocker interference detected!
Wikia is a free-to-use site that makes money from advertising. We have a modified experience for viewers using ad blockers

Wikia is not accessible if you've made further modifications. Remove the custom ad blocker rule(s) and the page will load as expected.